HONOR is definitely one of the most talked about smartphone brands in the Philippines today thanks to their strong marketing efforts and enticing line-up. Its latest release, the HONOR 90 5G, is a premium midrange phone that's poised to gain attention and market share for the brand by delivering great value to consumers.
This device is one of the first to get a whopping 200-megapixel main camera. It also boasts an advanced 'flicker-free' display, ultra-fast charging, and a whole lot more. We'll be testing all of them in our HONOR 90 5G review to see if it's worth your time and money.
HONOR 90 5G Specs
Android 13, MagicOS 7.1
Dual SIM, Dual standby
6.7-inch FHD+ AMOLED display, 2664 x 1200 pixel resolution, 435ppi
120Hz refresh rate, 3840Hz PWM dimming
1600-nits peak brightness
2.5GHz Qualcomm Snapdragon 7 Gen 1 Accelerated Edition octa-core processor
Adreno 644 GPU
12GB RAM
512GB internal storage, non-expandable
50-megapixel (ultra-wide) front camera
200-megapixel (f/1.9, PDAF) + 12-megapixel (ultra-wide) + 2-megapixel (depth sensor) rear cameras, LED flash
No headphone jack
Stereo speakers
Under-display fingerprint scanner, Face unlock
HSPA+, 4G LTE, 5G
WiFi 6, dual-band
Bluetooth 5.2
GPS, GALILEO, GLONASS, QZSS, BDS
NFC
USB Type-C
Dimensions: 161.9 x 74.1 x 7.8mm
Weight: 183g
Colors: Emerald Green, Midnight Black, Diamond Silver
5,000mAh non-removable battery, 66W HONOR SuperCharge
Design and Build Quality
Even though it's a premium midrange handset, its specs are almost at the same level as high-end devices. While it's nowhere near a flagship in terms of price, it shares a lot of similarities with a real, full-fledged flagship smartphone.
One of those qualities is design, and the HONOR 90 5G looks really luxurious in this Diamond Silver color with fancy stainless steel around the camera lenses, fancy texture, and reflective material. A more basic Emerald Green and Midnight Black colors are also available for those who want something simpler.
It's curved all around, from the display, to the rear panel, and the sides. Together with the glass-like back panel and the unique texture at the bottom half, the whole device feels really smooth in the hands while still providing enough grip so you can hold it securely.
Unfortunately, the shiny back panel means it's really prone to fingerprint smudges. It's barely noticeable, but if you want it to stay clean — and you want extra protection for peace of mind — you can use the included clear case.
The case securely protects the device from accidental drops, even with the curved display, and also provides an extra grip if you have big hands like me.
In addition, the stainless steel that surrounds the phone and the accent in the camera might need protection from hairline scratches, so you really might want to consider that as well.
Taking a tour, we have one of its best features on the front, the 6.7-inch FHD+ AMOLED display with the industry's highest PWM dimming at 3840Hz. We'll talk more about that later.
As said earlier, it has curved sides and a clean punch-hole cutout for the selfie camera. It results in an impressive 93.3% screen-to-body ratio.
The top has a secondary microphone for noise isolation. At the bottom, there's the primary microphone, USB-C port, loudspeaker, and SIM tray that can hold two nano SIM cards. As expected, it doesn't have a microSD card slot for storage expansion.
The volume controls and lock/power switch are on the right side. They are tactile but feel a little stiff for my liking.
On the back, we have two large lenses. The first one is shared by the 200-megapixel main camera and the depth sensor. The second glass is for the ultra-wide lens and the ring LED flash.
HONOR clearly nailed the design on the HONOR 90 5G. It's definitely one of the most luxurious-looking phones we've seen in this category. Probably the only thing missing is ingress protection. But given its low price tag, we can't really complain about it.
Display and Sound Quality
As mentioned earlier, one of the highlight features of the HONOR 90 5G is its display. What we're looking at here is a 6.7-inch AMOLED panel with 2664 x 1200 pixel resolution, HDR10+ support, up to 1600 nits brightness, and 120Hz refresh rate.
But what makes the screen really special is its high ultra-high 3,840Hz PWM dimming. You can see how the flicker is much less compared to a different smartphone side-by-side. This means that it does a better job of protecting you from flickers that could lead to eye strain and fatigue.
Overall, the display quality is nothing but impressive. The colors are vibrant and contrasty, the brightness is more than enough for outdoor use, and the HDR10+ works well in apps like Netflix. It also has apt sharpness and the large screen size really makes things immersive.
Possibly its most disappointing feature is the lack of stereo speakers, which should already be standard on devices of this caliber. Good thing the single loudspeaker at the bottom provides a really loud volume with audible depth.
Hardware and Performance
The HONOR 90 5G is powered by a special Qualcomm Snapdragon 7 Gen 1 Accelerated Edition, which has a clock speed of 2.5GHz, just marginally faster than the standard version's 2.4GHz. It's built on an efficient 4nm chipset, has an Adreno 644 GPU, and comes with a really generous 12GB of RAM. A massive 512GB built-in storage is also included, although it's non-expandable. With this size, the majority of consumers probably won't need it anyway.
HONOR 90 5G Benchmark Scores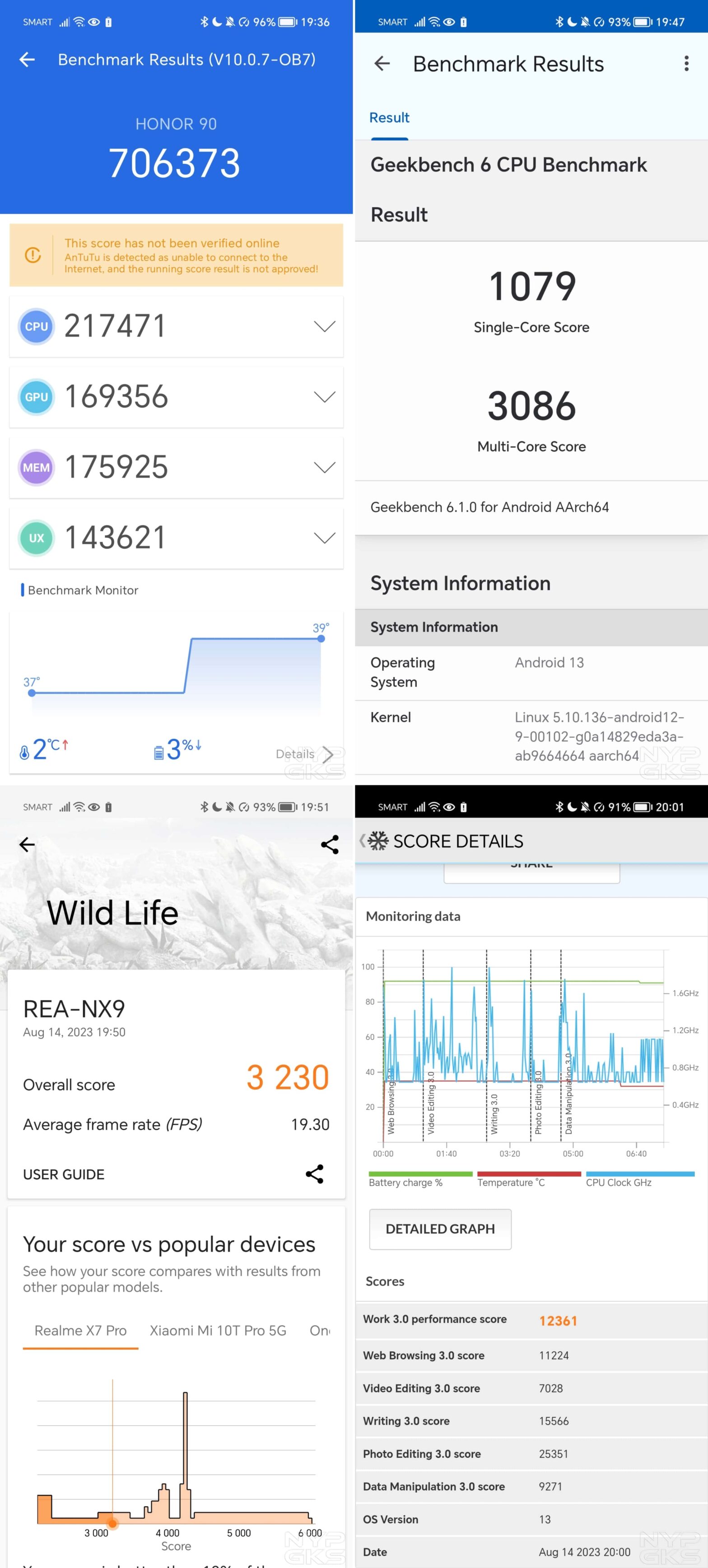 Despite coming from the Snapdragon 7 series, the overall performance is actually smooth, especially with the 120Hz refresh rate display. Scrolling in the interface and social media apps are fast, writing documents, editing photos and TikTok videos, as well as other tasks are easily doable on this device.
Knowing how it performs in basic and day-to-day tasks, we're not surprised that it also provides good gaming performance. Call of Duty Mobile ran smoothly under Very High graphics settings at max refresh rate.
We also tried out a new shooter game called Farlight 84 under Ultra graphics quality and Very High frame rate, the HONOR 90 5G handled it really well. As expected, MOBAs and esports titles like League of Legends: Wild Rift and Mobile Legends: Bang Bang had no issues.
Demanding games like Genshin Impact, Honkai: Star Rails, and Hogwarts Legacy are also playable on the HONOR 90 5G.
Software and User Interface
The HONOR 90 5G runs on the latest Android 13-based MagicOS 7.1 user interface. As we've said in our recent HONOR reviews, MagicOS is one of the most comfortable and easy-to-use Android UI in the market.
Nearby Share is here for easy and much faster file sharing between Android devices — HONOR or not.
HONOR Share is also here for seamless transfers and pairing to another device, tablet, PC, or TV that can share notifications, text input, call switching, and more.
The rich customization features are still here, including tons of always-on-display (AOD) wallpapers. We mixed and match the available options to create our own unique look.
Since it's a premium midrange phone, the HONOR 90 5G also has an under-display fingerprint scanner, which worked fast and accurately during our tests. You can also use it to lock select apps or for the Safe where you can store sensitive data.
In addition, the Face Unlock is incredibly fast and can instantly unlock the device before we can even use the fingerprint scanner.
One of the most used features is the keyboard. The HONOR 90 5G uses Microsoft Swiftkey by default. The whole keyboard is positioned lower than my liking, making it a bit hard to type. Thankfully, Android is customizable, so if you have the same sentiments, you can play with the layout to get something that's more comfortable for you.
HONOR also nailed the camera app with familiar buttons for lens switching, mode switching, Pro modes, and more. No problems here.
Overall, the MagicOS is still one of the best in the market, and the HONOR 90 5G clearly benefits from it.
See also: HONOR products price list
Camera
Now, let's talk about the second key feature of the HONOR 90 5G, the ultra-sharp 200-megapixel main camera, which uses a 1/1.4-inch sensor and an f/1.9 aperture. It is joined by a relatively sharp 12-megapixel ultra-wide lens that also works for macro shots and a 2-megapixel depth sensor.
With the 200-megapixel primary shooter, the colors look vibrant without being oversaturated and over-the-top. The contrast is deep and the dynamic range is clean, even in the most challenging lighting conditions.
You can see how HONOR's camera software does a great job at processing images — albeit slowly as you have to wait for a second or two before the image is fully ready when you want to preview it.
Of course, the details and sharpness are on point — which is no surprise considering that it uses a whopping 200-megapixel sensor.
The sensor is so sharp that you can use it to 2x zoom without losing any details. You can also enable the Portrait Mode to see how intelligently the software — paired with the dedicated 2-megapixel depth sensor — separate the foreground to create a clean and professional-looking background blur.
Even in 10x zoom, you'll still get a decent-looking image of distant objects.
When the camera has a large sensor, it also means that it will do well in low-light scenarios. 
Just turn on the Night Mode and you'll see how the camera can take bright, colorful, and detailed night shots — oftentimes even brighter than what your actual eyes see.
Meanwhile, the 112-degree field-of-view of the 12-megapixel ultra-wide lens allows you to easily cram large architectures, sceneries, and groups of people in a single frame.
All the ultra-wide shots come with similar color quality, contrast, and even surprisingly great dynamic range. Low-light shots also look good, especially with night mode enabled.
The macro shots use the same sensor and lens. It can take pictures of small details with ample of sharpness and almost the same color and contrast.
Much like the main camera on the back, the HONOR 90 5G also boasts a relatively sharp sensor on the front. What we have here is a 50-megapixel selfie camera that can take really sharp selfies that have a lot of details and accurate skin tones.
It is paired with a wide 100-degree lens so you can easily take group selfies with it. The Portrait Mode also works well here, so you can take selfies with a blurred background if you want to remove any distractions.
The HONOR 90 5G clearly has an interesting set of cameras that deliver. However, we miss having a telephoto lens and OIS on the main shooter.
Despite all these camera features, HONOR 90 5G is far from perfect. There are times when we noticed occasional shutter lags when taking photos and videos. AI processing is also not that fast, as we often wait for it to finish its optimizations.
Connectivity
The HONOR 90 5G, as the name suggests, has 5G connectivity. We get fast download and upload speeds in 5G, as well as 4G+. But always remember that this depends on your network. It also has dual-band WiFi, Bluetooth 5.2, and NFC.
There's also the aforementioned HONOR Share, as well as Easy Projection for wireless projectors, Link To Windows, wireless printing, and Android Auto — all worked fine during our tests.
Battery
The HONOR 90 5G also comes with a large 5,000mAh battery paired with the 66W HONOR SuperCharge technology.
Battery life is good, but nothing too impressive. We ran PCMark's battery test where it looks synthetic workload until the 100% charge drops to 20%. We ran it with the WiFi and Bluetooth off and the screen brightness and volume at 50%. During these conditions, the device lasted for 12 hours and 41 minutes.
In the real world, the device was able to last us for an entire day of touring while on vacation, which involved taking a lot of pictures, videos, and a bit of social media with using mobile. We usually ended the day with about 30% to 20% of charge left.
Charging from 3%, we were able to get to 47% in just 15 minutes, 81% for 30 minutes, with a full 100% charge taking about 45 minutes.
Verdict
The HONOR 90 5G has a couple of highlight features that are more than just marketing buzzwords. The sharp 200-megapixel main camera actually takes good pictures, and the high 3840Hz PWM dimming is actually useful to help protect your eyes, especially if you're a heavy smartphone user.
But there's more to this smartphone than those two key features. There's the sleek and luxurious design, reliable performance, generous RAM and storage (which is even higher than what other proper flagships offer), rich UI, and a decent battery life with fast charging.
However, the lack of stereo speakers is really disappointing. And if we were to nitpick, we wish the main camera had OIS, fewer shutter lags, and ingress protection from water and dust.
Other than those small drawbacks, the HONOR 90 5G is definitely one of the most competitive smartphones in the market and a great upgrade from its predecessor. And considering the brand's substantial after-sales support network, it sure is a worthy investment to spend your hard-earned money on.
HONOR 90 5G price and availability in the Philippines
You can get the HONOR 90 5G in the Philippines for a price of Php24,990. It's available for pre-order from August 16 to 25 with a free JBL Flip 6 worth Php7,499 until supplies last. Get it at HONOR physical stores, Shopee, Lazada, and TikTok Shop.
Pros
Comfortable size, luxurious design
Large, colorful display with impressive eye-care features
Great cameras
Smooth and reliable performance
Generous RAM and storage
Good battery life with fast charging
Cons
No stereo speakers
No telephoto lens, OIS
No ingress protection
This article, HONOR 90 5G Review, was originally published at NoypiGeeks | Philippines Technology News, Reviews and How to's.